Introduction to Grand Taj Hotel: Your Family Haven:
Grand Taj Hotel near Mall Road is a luxury hotel in the heart of panoramic views of Murree. This high-class hotel offers comfortable and premium staycation for the tourists to enjoy their stay with breathtaking balcony views. This hotel welcomes you with its beautiful ambiance and top-notch services. The hotel services encapsulate traditional hospitality and modern amenities to give you a memorable experience.
Grand Taj Hotel is heaven for those who are looking for a tranquil and peaceful gateway away from the hustle and bustle of city life. Feel opulence and extravagance with a beautiful ambiance, top-notch services, and an elegant staycation. Explore the charming tourist spots in Murree with a high-class staycation surrounded by panoramic views of Murree hills.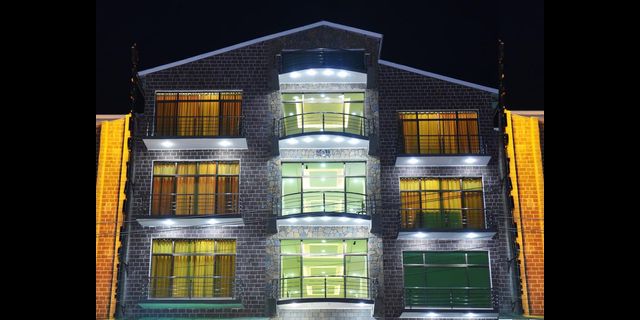 Why Choose a Hotel Near Mall Road, Murree:
Choosing a hotel near Mall Road Murree could be beneficial for you in various ways:
Mall Road is located in the heart of the city. So, it is easy to access various shops, shopping malls, cafes, and restaurants. It is easy to access all tourist attractions from here and it provides all local amenities and many activities for entertainment.

Mall Road is famous for business activities. It offers food stalls to enjoy local cuisines, restaurants to have international cuisines, and shopping for unique items from stalls. 

Mall Road provides an opportunity to enjoy the panoramic views of Murree hills, valleys, and forests.

It is easy to take a taxi, rickshaw, or any kind of local transport from Mall Road. 

Many tourist spots like Pindi Point and Kashmir Point are located near Mall Road.

Many events and festivals are held near Mall Road providing an entertaining opportunity to the tourists. 
The Allure of Mall Road: A Brief Overview:
Mall Road is a classic Hill station with charming and captivating natural views of mountains and lush green forests. Mall Road is located in the heart of Murree surrounded by tall trees and lush green mountains. The road is lined up with shopping malls, restaurants, jewelry stalls, food stalls, and cafes.  This area is considered the business hub of the city for having various business activities throughout the year.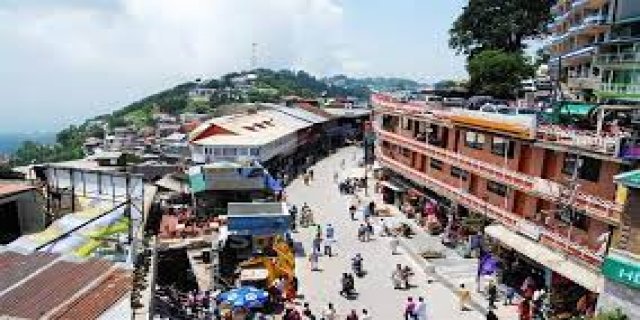 Tourists enjoy the hustle and bustle of people wandering in the street and enjoying the cool breeze during the summers. Tourists can also enjoy shopping shawls, decor, and jewelry from local stalls. There are many historical buildings of the colonial era to add a nostalgic touch to the surroundings.  This area offers natural, traditional, and commerce activities all together to make your experience unforgettable.  
Grand Taj Hotel: A Family-Friendly Oasis:
Grand Taj Hotel is a 5-star hotel near Mall Road Murree offering a comfortable and relaxed staycation with a mesmerizing balcony view. The hotel is located in a prime location to access the local attractions of Murree easily.  This hotel is a perfect escape for people who want a peaceful environment away from the hustle and bustle of city life.  The hotel offers a secure and clean environment, free and secure parking, 24-hour room service, a rooftop restaurant, and laundry services. 
Accommodation Excellence: Room Options and Features:
The hotel offers fully furnished and spacious rooms equipped with all the necessary facilities for the tourists. The following are a room options available at the hotel:
Standard Room:
Standard Rooms are spacious and fully furnished rooms for a comfortable and pleasant staycation. These rooms are equipped with one king-size bed for 2 adults and 1 child and an extra mattress will be available on demand with some extra charges.  The room offers facilities like a flat TV, free WiFi, a clean & separate bathroom, a living area, and a balcony view.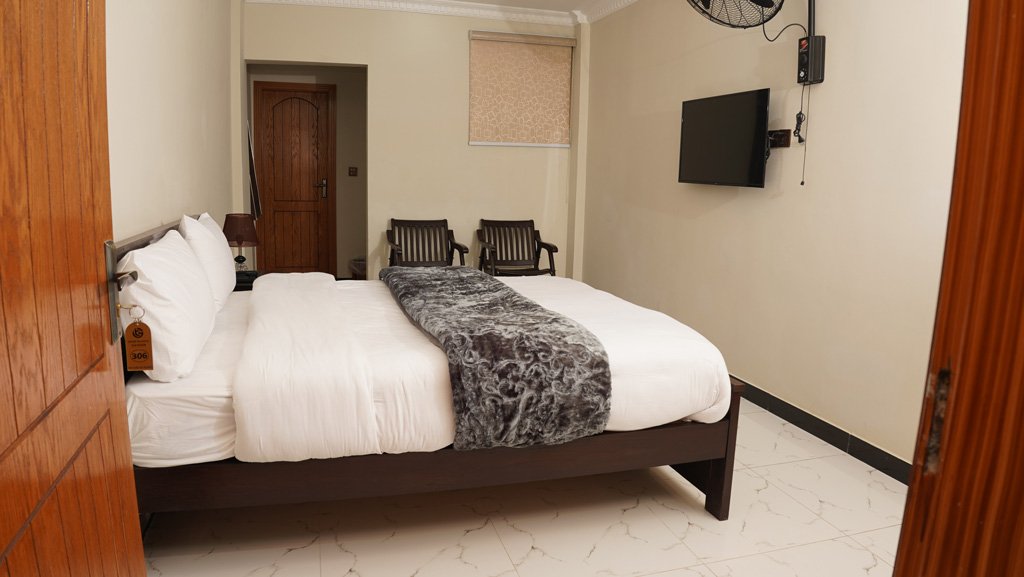 Premium Room:
Premium Rooms are comfortable rooms for 3 adults and 1 child with one double bed and one single bed. The room offers 24-hour service, free WiFi, cable TV, a separate & clean bathroom,  free parking, a balcony view, secure parking, and rooftop cuisine.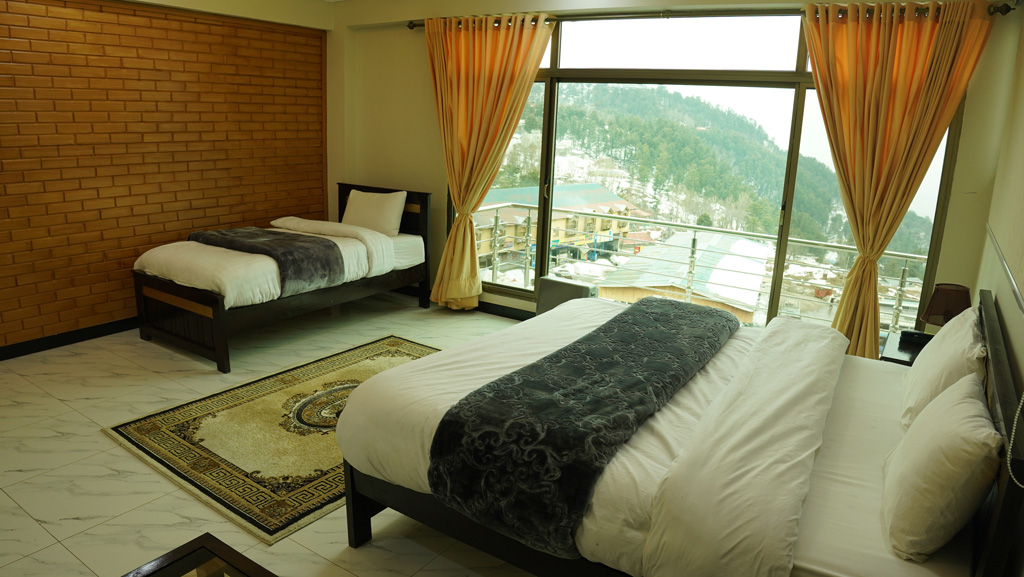 Junior Suite:
Junior Suite is a spacious room equipped with one queen-sized bed and two single beds perfect for a comfortable staycation for 4 adults and 1 child. All the rooms are available with air-conditioning, free WiFi, cable TV, a bathroom with hot water, a balcony view, and laundry facilities.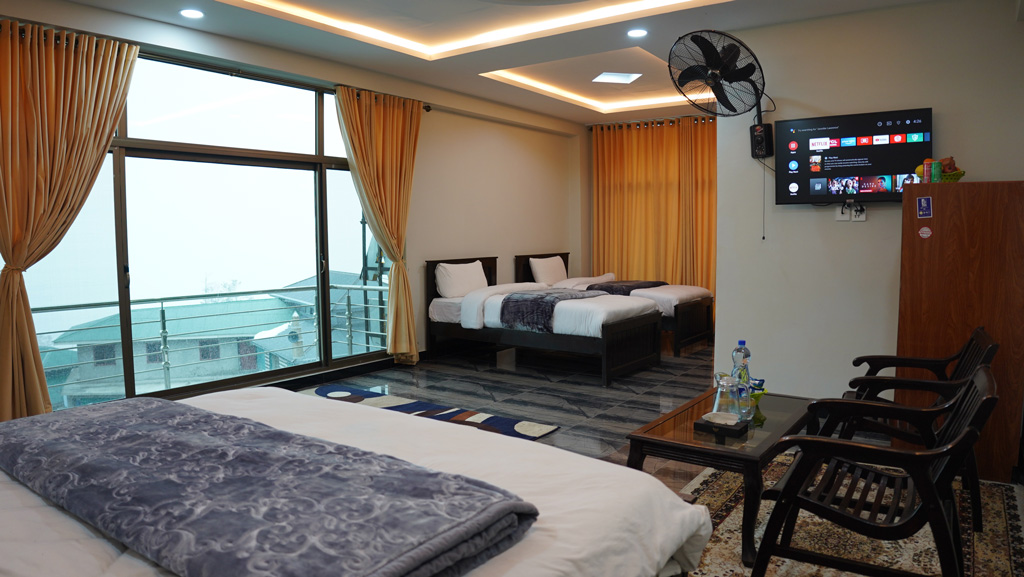 Deluxe Suite:
Deluxe Suite is equipped with 2 queen size beds and one single bed perfect to sleep for 5 adults and 2 children. The room offers high-class amenities to its guests including air-conditioning, free WiFi, cable TV, a separate bathroom, hot water, a mini-refrigerator, a microwave, a dining area, and a balcony view.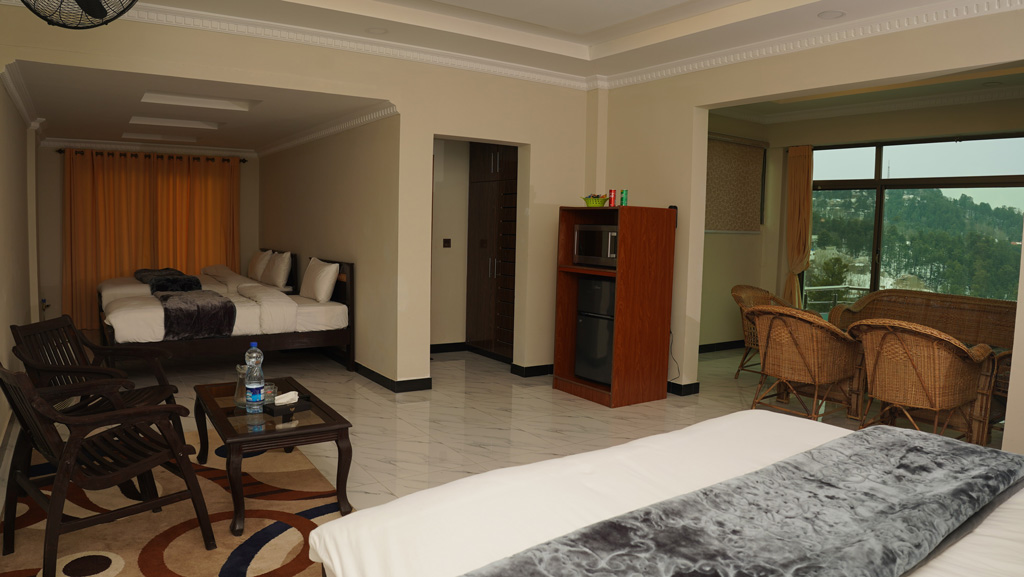 Dining Delights: Culinary Experiences at Grand Taj:
Grand Taj Hotel offers a luxury rooftop restaurant for tourists with a beautiful ambiance. The restaurant's menu is full of delightful national and international cuisine for the tourist. Breakfast is free for the tourists staying at the Grand Taj Hotel. Tourists can enjoy their meals with charming ambiance, delicious food, and mesmerizing rooftop views.  
Local Attractions: Exploring Beyond Mall Road:
There are various popular local attractions near Mall Road Murree. Here are some attractions:
Pindi Point:
Pindi Point is a natural tourist spot to enjoy the panoramic views of surrounding hills and valleys.
Kashmir Point:
It is a peaceful and picturesque viewpoint for tourists to enjoy the sunset with the breathtaking views of the Himalayan mountains and Kashmir Valley.  
The Mall Road:
Mall Road itself is a busy place lined up with shopping centers, handicraft stalls, local cuisine, cafes, and restaurants. It also gives a good experience while walking on the road in the evening with a cool breeze. 
Ayubia Chairlift:
Ayubia Chairlift is located near Mall Road to go on the adventurous journey of lush green forests and valleys in an exciting way.
Food Street:
Food Street is lined up with various food stalls, cafes, and restaurants offering local and international cuisine for tourists. 

Booking Your Stay: Tips for Grand Taj Hotel:
Following are the tips to make your stay unforgettable at the Grand Taj Hotel:
Decide the dates of your tour and staycation to avoid any discomfort, especially in peak season.

Check the availability of rooms on the decided dates.

Search different room options offered by the hotel and compare the amenities and prices of each room.

Choose a suitable room according to your family members and budget. 

Contact the hotel directly for any query about room availability, discount offers, or special amenities.

Inquirer about the different packages and discount offers. 

Check the cancellation policies of the hotel to be aware of the cancellation procedure and rebooking. 

Confirm your check-in and check-out time. 
Best Times to Visit Murree with Family:
May to October is the best time to visit Murree with your family to enjoy the breathtaking views of lush green forests and mountains and pleasant weather. May to June is the best time for nature lovers to enjoy the blooming of vibrant flowers and greenery. 
July and August are the time to escape from the hot temperature of the plains and enjoy time in the cool weather of the mountains. September and October are the best months to enjoy the fall of orange leaves. During this season, the rates of the hotel are also reasonable and you can enjoy a comfortable family tour at unbeatable rates.